City of Ljubljana
Poišči na spletnem mestu
Tuesday, 10. 11. 2020
International exhibition of posters on tolerance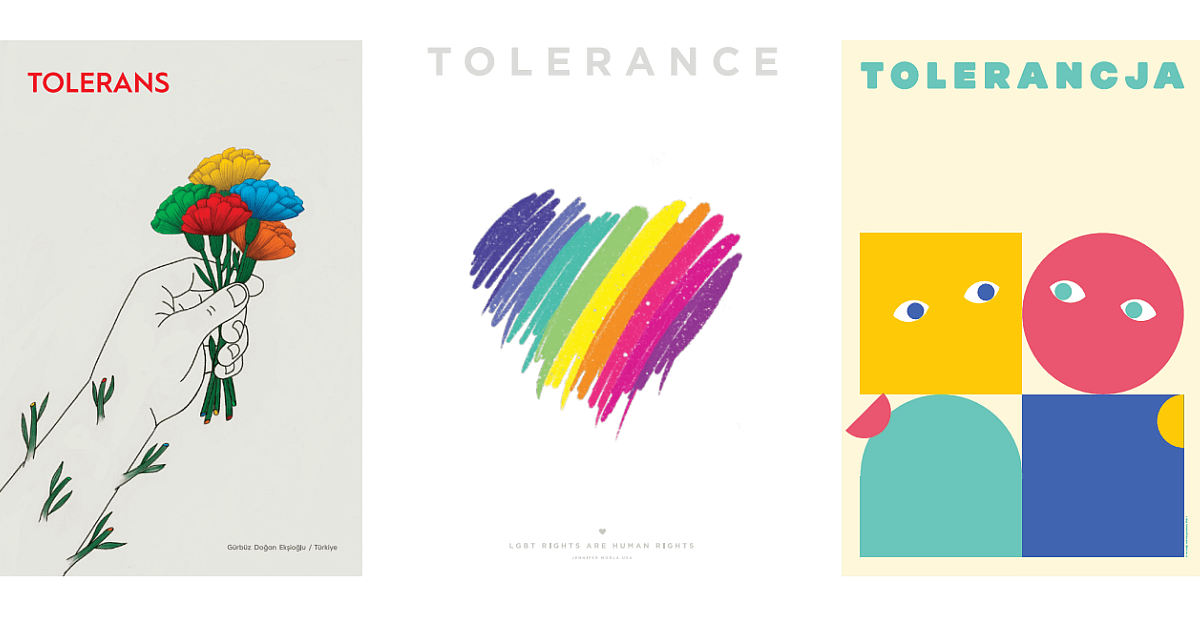 From 11 November to 2 December 2020, an international exhibition of posters on the topic of tolerance is on display in the open-air gallery on the platform in front of the Slovenian House (Figovec). With the exhibition we are marking the International Day for Tolerance, 16 November, by presenting works of exceptional authors of posters and at the same time we are opening up an opportunity for much needed dialogue on the topic in the wider society.
In Ljubljana we are proud we reside in an open city, where we can live together while respecting the differences and where we are strongly committed to the core values of tolerance, comradeship, solidarity and mutual respect.
The exhibition is featuring 36 posters, each displaying the word tolerance in their own language. The author of the exhibition is the world-renowned graphic designer and illustrator Mirko Ilić, the initiator of the project Poster Tolerance Show, which is bringing together designers from around the world. A big supporter of Ilić's initiative was also the master of contemporary design Milton Glaser whose poster is also part of the exhibition.

The project Poster Tolerance Show was on tour already in 30 countries and has sent the message of social acceptance to over 150,000 people. It is opening a conversation on inclusion which can start only on the foundation of tolerance. As Mirko Ilić said: »The project Tolerance promotes the acceptance of diversity through the power of design. In cooperation with authors from around the world we want to draw attention to the occurrences of intolerance and contribute to positive changes in the society.«

The exhibition was organized in cooperation with the City of Ljubljana, the TAM-TAM Institute and the Public Institute Young Dragons. The TAM-TAM Institute, Mirko Ilić and the Public Institute Young Dragons already plan to continue their cooperation in the coming year. Within the framework of the programme City Incubator they are planning a joint appeal to young designers in the form of a public competition with which they want to nurture design skills and guide young designers through the contents and graphic design.
The Authors
Bonnie Siegler (ZDA), Christopher Scott (Ekvador), Cyan ( Nemčija), Frank Arbelo (Bolivija), Gary Taxali (Kanada), Leo Lin (Tajvan), Levente Benedek (Romunija), Lo Siento (Španija), Michael McCaughley (Irska), Milton Glaser (ZDA), Nuno Martins (Portugalska), Rafal Olbinski (Poljska), Siggi Odds (Islandija), Sorin Traistaru (Romunija), Vincent Perrottet (Francija), Tomato Kosir (Slovenija), Novi kolektivizem (Slovenija), Radovan Jenko (Slovenija), Jennifer Morla (ZDA), Rikke Hansen (Danska) Maltseva Olya (Ukrajina), Anna Lena von Helldorff (Nemčija), Robert Probst (ZDA, Nemčija), Andrew Lewis (Kanada), Marisa Passos (Portugalska), Peter Javorik (Slovaška), Gurbuz Dogan Eksioglu (Turčija), Robert Čanak (Hrvaška, Qatar), Joanna Górska in Jerzy Skakun (Poljska), Yarza Twins (Španija), Mykola_Kovalenko (Ukrajina), Anna Korolovszky (Madžarska), Dimitris Arvanitis (Grčija), Boris Ljubičić (Hrvaška), Fidel Pena (Kanada)