City of Ljubljana
Poišči na spletnem mestu
Thursday, 11. 4. 2019
TIC and STIC as the first payment points for the Alipay app in Slovenia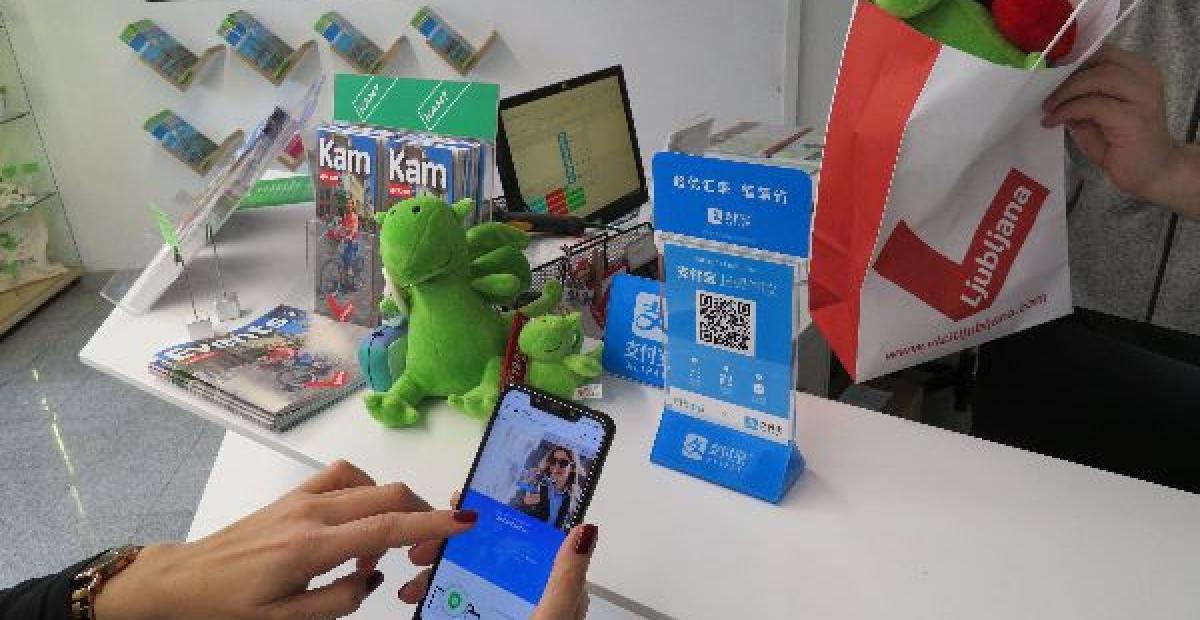 Now Chinese guests can use the popular mobile app Alipay at TIC and STIC to pay for adventures and products.
According to the UNWTO data Chinese tourist are the biggest consumers. In 2017, according to their research, they spent almost 258 billion US dollars (followed by US citizens with 135 billion and Germans with slightly over 89 billion US dollars). Visits of Chinese tourists with added value are also on the increase in Ljubljana (in the last five years the number of visitors to TIC and STIC has increased by 300%). Through agencies and tour operators Ljubljana Tourism is addressing the so-called FIT guests (fully independent traveller) – visitors with higher education and consumption who are organising their trips themselves and are enthusiastic about adventures, culture and tradition.
As increasing visitors' consumption is one of the key strategic goals of Ljubljana Tourism, they are working with the Alipay partner in Slovenia, the company AI-SI Global, and are the first local tourist organisation in Slovenia to set up payment points for the mobile application Alipay at their tourist and information centres, anticipating to increase sales and the satisfaction of Chinese customers with added value. Namely, Chinese visitors have trouble paying with their bank cards abroad and favour paying (at home, as well) with the mobile app.
In addition, Alipay is a good marketing channel which Ljubljana Tourism intends to use for the promotion of adventures, and their services already include a guided tour and promotional materials in the Chinese language.
What is Alipay?
Alipay is a digital payment method, part of the Alibaba group, the biggest web store in the world. In addition, Alipay is also the most popular payment method in China and has over 800 million active users. In China most of payment transactions are performed with Alipay. Now, for the first time it is available in Slovenia, as well, so the Chinese can make payments using this wide spread payment method. They can use it in stores, restaurants and museums. The best way for providers to reach Chinese consumers is to enable payment with Alipay. In addition, Alipay is a great marketing channel for Slovenian local companies and organisations as it makes them visible to the Chinese consumers who are visiting Slovenia.
The great advantage of Alipay is that Chinese consumers can pay in their own currency (RMB) while the provider of services or goods receives payment in euro without taking foreign exchange risks. The company AI-SI Global can integrate the Alipay app at the payment point without accessing the cash register, and so the integration is quick and simple. Customers perform payments by scanning the static QR code at the point of sale and providers receive payments to their business accounts. The Alipay payment method is great for providers of services or goods who wish to increase their sales and establish a good reputation among Chinese consumers.