City of Ljubljana
Poišči na spletnem mestu
Monday, 30. 9. 2019
Waste is scarier than it seems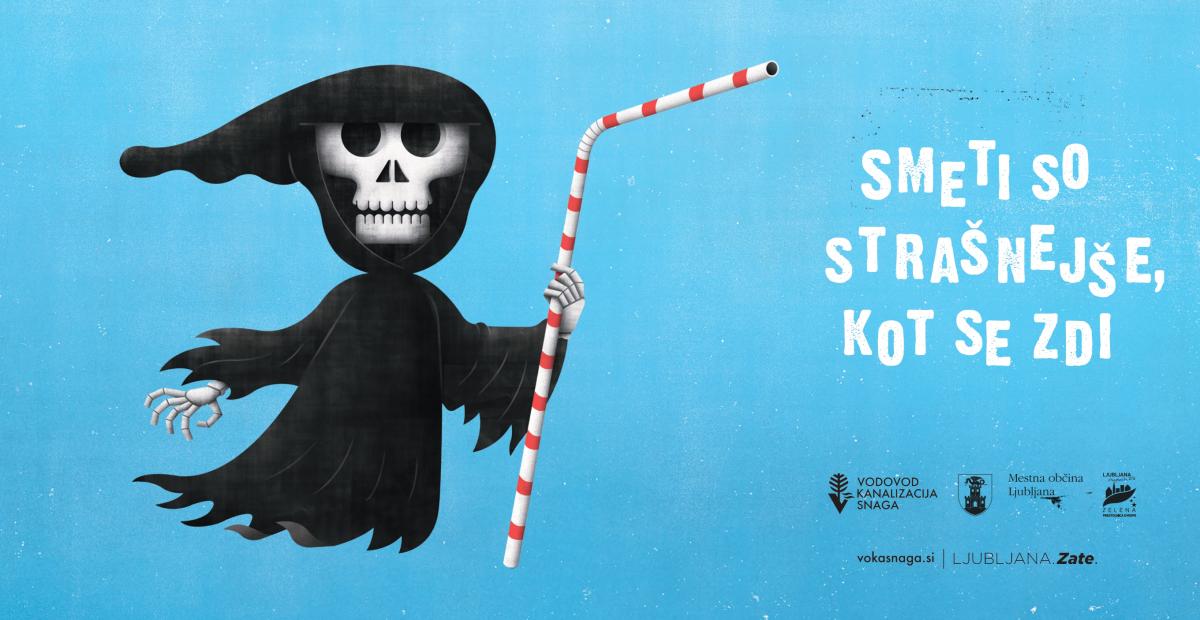 In Ljubljana we are aware of the significance of protecting our environment, and that is why we are addressing the consequences of inappropriate waste disposal with our campaign Waste is more dangerous than it seems.
Think about using plastic products
The challenges of our time are practices that might be somewhat unusual or inconvenient but necessary for our transition to a more sustainable society.
One of the challenges at global and local level is the use of plastic: because of their versatile and simple everyday use at low cost we are completely overwhelmed with products made of plastic, and the quantities we are producing and using have excessively increased. As plastic is produced from unrenewable fossil fuels (petroleum oil) and as nature »doesn't know« how to process it, the problems due to waste plastic are growing, as plastic waste winds up in air, soil, water and food. Of course, plastic is not to blame for these problems, we are because of our irrational use of plastic.
Waste that ends up in the »wrong« places (for instance in rivers, lakes and nature, in general) is very harmful or even deadly for the animals living there. Awareness of the consequences of waste in the sea is already wide spread, but less often we think of how waste threatens animals living in or along rives, creeks and ponds.
In addition, we want to use the campaign to examine and change our stance to too often completely unnecessary single-use products, such as straws and plastic bags.
And when discussing the connection between waste and water we are opening another important topic: responsible water management is not only water saving but also more prudent and responsible consumerism. Namely, the production of all consumer goods (also those for single use) requires water.
Waste is more dangerous than it seems
The campaign Waste is more dangerous than it seems is part of our efforts directed towards a safer, sustainable oriented and well managed environment ensuring a high quality of life for us and future generations.
In the first phase of the campaign we are going to address the problem of our attitude towards waste and resources with billboards, posters on middle schools in Ljubljana as well as on websites and in the social media of the City of Ljubljana and the public company VOKA SNAGA. And in the following phase we are going to focus on promoting better consumer practices and strengthening our cooperation with other stakeholders.
The campaign Waste is more dangerous than it seems is supported by the advertising agency Pristop and the company Europlakat within the framework of their socially responsible activities.